the little mermaid, jr 2013
scuttle
for this production of little mermaid, jr, i wanted to create the look and feel of a decayed atlantis. i worked with the costume designer to create distressed costumes for the various animal characters. we wanted each animal to have a unique style and to show characteristics of the animal but not mimic them. for example, here you see the distressed 'wings' of ariel's seagull friend, scuttle.
under the sea
little mermaid, jr presented a unique challenge in that it had about 12 different locations we had to travel to in a 90 minute production. i worked with the set designer to illustrate these various locations with a few moving set pieces that the sea chorus was responsible for transferring around the stage throughout the show. each piece of the set was moved many times to transform itself into multiple locations.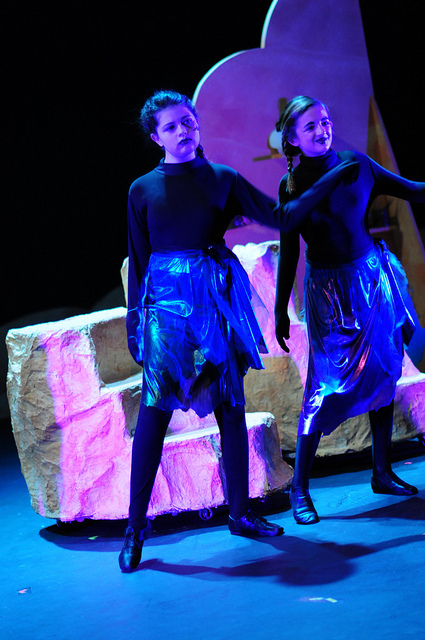 flotsam & jetsam
for ursula's grotto, i worked with the set and lighting designers to create a very dark world, opposite to that of triton's court. we used l.e.d. side lighting to cast very dark, purple shadows to create this cave atmosphere. i felt like this also lent itself well to the concept of a decaying atlantis underworld.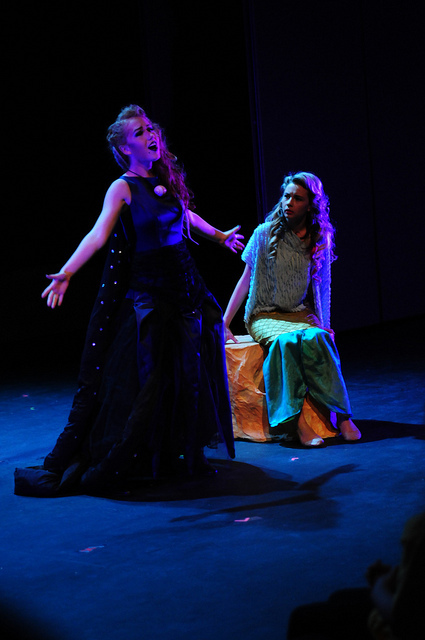 little mermaid, jr was produced by desert foothills theater in september, 2013
director: aubrey watkins
music director: terry smith
choreography: tiffany brown
stage manager: caitlin hiltey
set designer: dori brown
lighting desinger: mollie flanagan
costume designer: ben bozovich
all production photos by: jeremy andorfer, vangelis productions