a whole new world
the concept for this production of aladdin, jr came from reading the classic stories of arabian nights. the set designer and i truly wanted to bring this inspiration to life by creating a storybook on the stage using the two projection screens you see upstage. we used these screens to display the various locations in the show, as you see here the beautiful night sky for a whole new world.
genie
the costume designer and i drew a great deal of inspiration from past illustrators of arabian nights for the color palette. you see here the genie who is in muted, pastel, patchwork colors. i also worked with the make-up and hair designer to create a darker, magical look using gold flecks, dark eyes, and indian inspired jewelry.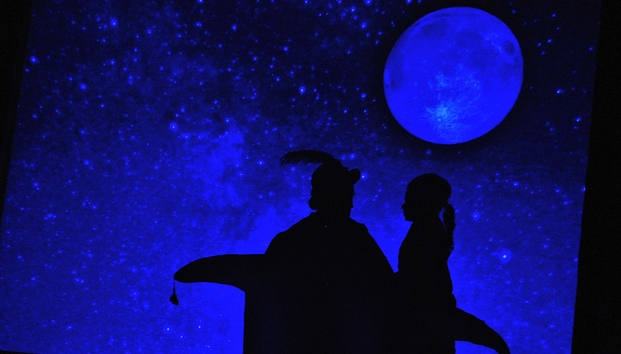 magic carpet ride
it was very important to me to use old-world techniques for the magic in the show. for the famous magic carpet ride, i used a cut-out of the carpet and live actors to cast a shadow on our projection back drop. the actors traveled behind the screen and created an unforgettable visual.
aladdin, jr was produced by desert foothills theater in may, 2013
director: aubrey watkins
music directors: sara bernstein & reynaldo saenz
choreography: tiffany brown
stage manager: paris rhoad
set designer: martin treinen
lighting desinger: mollie flanagan
costume designer: rebecca wilcox
all production photos by: jeremy andorfer, vangelis productions